Hello All
As most of you already know I have been really ill and had to close down everything BNT related due to all my medical appointments, medication and so on, which all took toll on me.
I am not out of the woods yet and have been told that it will be a while until I am better.
I had re-opened the forums due to it doesn't really require that much maintenance to run.
Now to-do with the actual game code.
I have had loads of time to think about this, and due to issues I had getting the code that I had working 100% fine before I become ill along with all the emails asking for help setting up their BNT game(s) etc.
Grated loads of people know what they are doing and probably loads have more knowledge about this than I do LOL, but there are loads that have very basic or near no programming skills and or no administration skills and when something doesn't go as they expected they blame our code, not saying our code is good or anything, but 95% of people that I helped setup BNT on their server (using shell access) I was able to setup the game to a running state and that was with no code change.
Then there is the people that like to steal code and break the licencing conditions etc.
I am all about opensource whether it be software or hardware, I am all for it, but the people that just steal our code and passes it off as their own starts to put me on that fence.
So at this point I am not too sure whether to have source code available or just the binaries.
Anyway to the direction that I would like to be heading to would be to drop PHP, Apache etc, so no more browser based game, and move towards having Game Clients for your PC, Mac, Mobile Devices etc.
Please Note: I haven't fully looked into all of these features and some parts are just ideas that I think are very possible to do, but things happen and stuff gets changes, so some feature may or may not get added.
Thinking all the above and all the emails and issues that I have seen over the 10 to 15 years I have been part of BNT I have been wanting to do this for several years where everything is split up server side and would require a game client.
So we would have the following separate services:
Authentication Service
, which would handle all authentication side of things and all the emailing that is required when the user first signs up on our site.
Game Service
, this would be a cut down version of the game that has no account information of the players that might be playing on that server, all they get to store is a UserServerID (a form of Hash) which is unique per user and server.
Basically the player would create an account on our network using our created game client, once created and logged in the player will be presented with either a list of servers that they already have characters/ships on, or if its a new account the player will be asked to pick a server that they wish to play on.
Now this server that they choose might be down to it being in the same region as them or maybe due to they have friends that are already playing on that server.
Oh did I mention friends, well I am also thinking of adding a feature that allows player to adds other players as friends, so whenever they login all their friends will all know they have logged in.
While we are talking about friends lists etc I am also thinking about sending private messages between players, even if they are on completely different servers.
Here is a rough draft on how it all connects up: (
YES I KNOW ITS A CRAP DRAWING LOL
)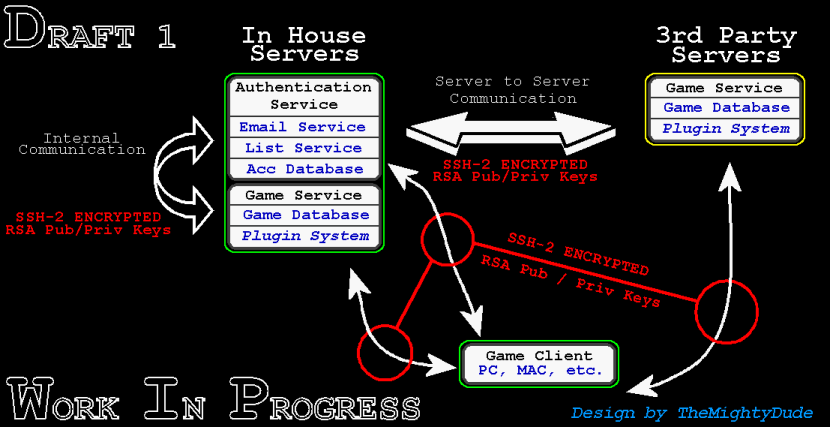 I just thought I would say that there is no difference between the Game Service run by us and 3rd party ones run by you lot.
Also 3rd party game services will have a built in rating system where players can rate that server, this will allow for newer players to decide on what server to play on.
And any server that is being abused by the admin, etc will get a few warnings before they get removed from the list of games.
At this time I am not too sure if I will be adding a feature where our admins and view all server logs including 3rd party ones.
I cannot see this as an issue due to no private information is stored on the game services.
The Game Client will have two connections open:
1: Connection between Game Client and our Network, this is for sending private messages and Friends List etc.
2: Connection between Game Client and Game Service, this is for all game stuff etc.
I know this is very basic, but this has been done when every I get a good day where I feel good enough to do stuff.
I will try and add more information when I can.